Superb Enterprises Pvt Ltd is a pre-eminent company for delivering timely, affordable and genuine UAE attestation services in India. We have been authorized by the Ministry of External Affairs of India and embassy of UAE to collect, process and deliver documents for attestation from UAE Embassy. We have more than twelve years of experience in providing certificate attestation from UAE embassy. We also provide document translation services in Arabic. We process all Indian issued documents for attestation from UAE embassy.
We provide UAE embassy attestation services in Delhi, Chennai, Hyderabad, Trivandrum, Mumbai, Pune, Bangalore, Lucknow, Kochi, Kolkata, Bhopal, Ahmedabad, Raipur, Guwahati, Goa, Jalandhar and Chandigarh. we also provide attestation services from UAE embassy in Dubai.
Travellers to UAE will feel pleased to know that we offer UAE tourist visa services. To facilitate this service, we are associated with M/S Dnata International.
We provide complete packages for educational, personal and commercial certificates attestation from UAE embassy in India. Below is the brief synopsis about the need and procedure of document attestation for UAE.
What is the need of UAE attestation?
UAE embassy attestation is a procedure of getting stamp or signature on a document by the authorized department. It is usually required for obtaining education, family and employment visa of UAE. Certificate attestation for UAE is required to prove its authenticity for use in the UAE.
UAE Embassy attestation Procedure:
The procedure of attestation from UAE embassy is depends upon the type of documents. There are different government authorities responsible for attestation of educational, personal and commercial documents. Below is the flow chart of all the government authorities involved in the procedure of certificate attestation from UAE Embassy.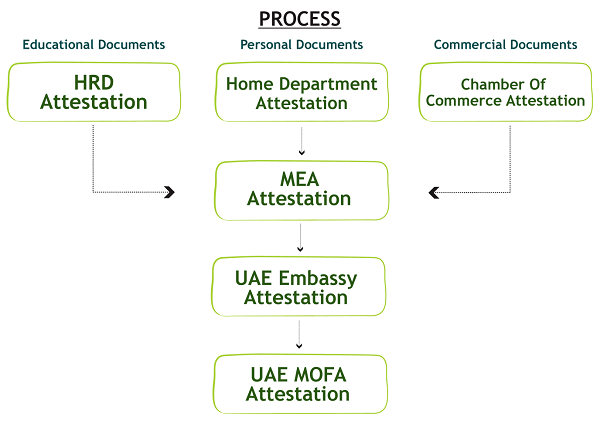 Role of HRD in Degree Attestation for UAE
The Human Resource Development (HRD) in a state is the department concerned with all the educational institutions in that particular state. For acquiring UAE embassy attestation, you have to first authenticate your educational certificates from the Human Resource Development of the state from where it was issued. The HRD will verify the document by putting the seal and signature.
Role of Home Department in Certificate Attestation for UAE

The Home Department in a state is responsible for the authentication of personal documents. For getting personal certificate attestation from UAE embassy, first you have to validate your documents from the State Home Department from where these have been issued.

Role of Chamber of Commerce in Certificate Attestation for UAE

Chamber of commerce is the department set up by the Govt of India to handle matters related to business documents. You have to get your commercial documents corroborated from the Chamber of Commerce in India.

Role of MEA in Document Attestation for UAE

Ministry of External Affairs of India verifies the authenticity of all educational, commercial and personal certificates in India. MEA attestation is mandatory before UAE Embassy / consulate attestation.

The final step UAE Embassy attestation

The UAE Embassy performs the final step of attestation. This consists of two parts. First, the UAE Embassy in New Delhi attests the certificates followed by the Ministry of Foreign Affairs (MOFA) attestation in the UAE.

UAE Embassy Attestation Fees

| Types of Documents | Fee (UAE DIRHAM) |
| --- | --- |
| Educational Documents | 156.06 |
| Personal Documents | 156.06 |
| Commercial Documents | 2043.06 |




Note:

The UAE Embassy fees is the sole prerogative of UAE embassy and Superb Enterprises have not any influence on it.
SEPL will levy a service charge of Rs 500 per document from agents and Rs 1000 from individual clients.
The service charge may vary if additional services are taken by a client or agent. Additional service tax will charged as per rules of government of India.
Service charge for GAMCA medical attestation is Rs 300.
The visa processing charge is Rs 300.

For any assistance regarding attestation of documents from UAE embassy, please call on our customer care no. +91-8527270999
Types of Certificate Attested for UAE:
Educational Documents

Degree Certificate


PG Degree Certificate


Pre Degree Certificate


Diploma Certificate
(affiliated to UGC)


Nursing Certificate


HSC Certificate


MBBS Certificate


Engineering Certificate
(affiliated to UGC)


Pharmacy Certificate


B.Ed Certificate


MS Certificate


MD Certificate


B Tech. Certificate


Mark sheet


SSC Certificate


Inter Certificate


Provisional certificate

Non-Educational Documents

Marriage Certificate


Birth Certificate


Leaving Certificate


Police Clearance


Registration Certificate


Power of Attorney Certificate


Marriage Affidavit Certificate


Bona-fide Certificate


Medical Certificate


Affidavit


Single status certificate


SLC Certificate


Divorce Certificate

Commercial Documents

Export Invoice


Packaging list


Power of Attorney


Certificate of Origin


Certificate of incorporation


Chemical analysis report


Physical analysis report


Memorandum of Article
and Association


Food product test report


Price List


Analysis Certificate


Product List


GMP Certificate


Manufacturing License


Health Certificate


Registration Certificate


Agreement


Form 26 for Tax


Free Sale Certificate