A bonafide certificate or letter is what you get from your school principal, head of the university, or your company director. The certificate confirms that you are or were a part of a particular school, college, or company.
What is Bonafide Certificate?
Bonafide is a synonym for Genuine. By the word, you can understand, it is to prove that someone is genuine. In a nutshell, bonafide is a certificate provided by your college, school, or employer that works as proof to the institute, university, or company that you belonged to a particular organization.
This certificate provides information like your name, date of birth, parent's name, the course you have pursued/your designation in the office, etc.
Whatever details are in the bonafide certificate depends on the type of that certificate and the purpose for which you need it.
What is the Use of a Bonafide Certificate?
This certificate is needed to apply for a study visa or work visa, here are some other reasons as well.
To avail of travel benefits
For educational loans from a school or bank
For permission to visit an industry for project work
To apply to attend a seminar or workshops at other academic institutions.
To join a public library in a foreign country.
To open a bank account abroad.
However, to use a certificate or any document in a country abroad, you need to attest to it by the government authorities of the country that issued the certificate and the embassy or consulate of the country where you will use the bonafide certificate.
Read More: MEA Document Attestation
Types of Bonafide Certificate
Because we need a bonafide letter for many purposes, there are many types of it too. Mentioned below are different bonafide certificates essential for applying for college loans to study abroad, get a new job, or take advantage of government programs in a foreign country.
For Employees
For a Bank
To Attend a Conference
For Formal Seminar
From School or College
For a Visa Extension
For a Passport Application
For Educational Financing
For a Project Work
For Travel Discounts
For the Membership of a Public Library
What is Bonafide Certificate from University?
For instance, if you have plans to move to America for MA, MBA, or Ph.D., then in whatever university you want to go to, you have to prove that you are an eligible student and that the documents you are giving them are from an authorized university.
For this, you need a bonafide letter from the head of your university, which will have their sign and college stamp that proves you were a student of that college.
Here is an example of a University bonafide certificate.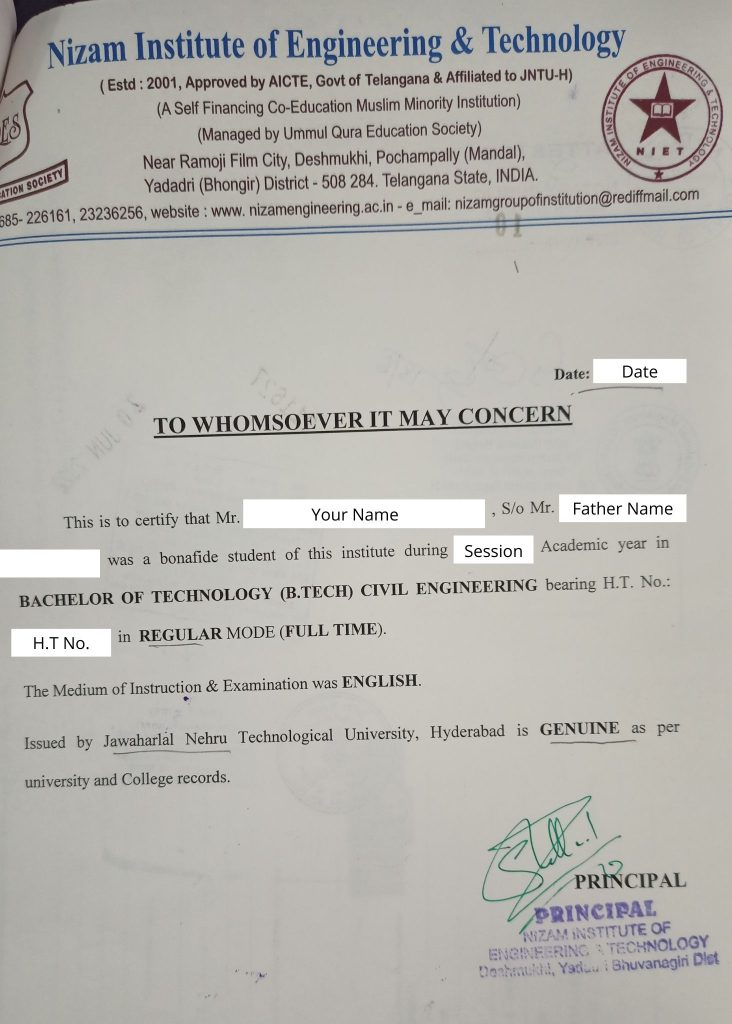 Bonafide Certificate for Employee
The State of UAE, Qatar, has strict policies for foreigners. The authorities in Qatar accept educational documents with a bonafide certificate that the applicant has obtained from his college or university to get a job there.
Read More: Certificate Attestation Services for UAE
For an expat in Qatar, the USA, the UK, Austria, and many other countries, a bonafide certificate is mandatory for educational certificate attestation. The main motive behind this certificate is to find out if someone has fake documents.
This certificate should state that you were the employee of that organization and confirm the genuinity of the record.
What is a Bonafide Letter from School?
When a student applies for a transfer from his school to a foreign school, he needs some documents, such as a transfer certificate, educational certificates, and a bonafide certificate.
So out of the few documents, a student needs a bonafide letter for admission. This letter certifies that the student was a regular student of this school. A bonafide certificate is compulsory to inform the foreign school that the student is in this class.
How long does a Bonafide Certificate Valid?
This certificate is issued on the letterhead of the university/school/company according to your requirements, and it is valid only for three months.
How do you get a Bonafide Certificate?
Write a letter to appeal for a bonafide certificate to the head of the institute/organization. Try to write a concise letter with the reason you need this certificate.
Does a Bonafide Certificate Mean a Character Certificate?
No, a character certificate and a bonafide certificate are not the same. A character certificate proves your behavior was sincere when you were present in a particular company, university, or school.
On the other hand, a bonafide certificate confirms that you were the employee or student of this company or college/school.
How do I Write to the Principal for a Bonafide Certificate?
Application for a bonafide certificate should be concise, which should be something like this;
To The Principal
Your College name
College/School Location
Date when you write the application
The subject of the application
Greeting like Respected sir/madam
Start the body of the application with your name and your class or college year. Do not forget to specify your course.
Then add why you need it.
End the applicant with kindly provide me with the Bonafide certificate.
Thank you to the Principal.
Yours truly
You can write the application for a Bonafide letter in this format for college, office, or school. 
Bonafide Certificate Attestation
Attestation is compulsory to prove the authenticity of documents needed to submit to a foreign university, school, or company for education or employment.
A bonafide certificate is attested to prove it is authentic, like a degree certificate, marriage certificate, police clearance certificate, or any other document that crosses the attestation procedure.
It is one of the documents attested by the concerned State Government Department, Ministry of External Affairs (MEA), and your destination country's embassy.
If you want to use a bonafide certificate in any UAE state, then along with the aforementioned attestations, a MOFA attestation is compulsory.
Because the government authorities accept applications for certificate attestations through the authorized agency, Superb Enterprise Pvt.Ltd (SEPL).
The agency is officially approved by the Ministry of External Affairs (MEA) to help people by completing their document attestation procedure without any hindrances.
If you want attestation on your certificate, courier your certificate or visit the service center of SEPL, which are in every state of India.