MEA Apostille:
The Hague Convention of October 1961 Abolished the Requirement of Legalization of foreign public documents. The Apostille Treaty is an international treaty drafted by the Hague Conference on Private International Law. Any document Apostilled in one member country is acceptable in all other member countries who are signatories to the Hague Convention. Apostille is affixed by competent authorities designated by the government of a country which is party to the convention. Apostille is done for personal documents like Birth, Marriage, Death Certificates, Affidavits, Educational documents like Degrees, Diplomas, Secondary level Certificates etc.
Apostille stamp is a square shaped computer generated sticker, pasted on reverse of the Original Documents by the MEA, India. MEA Apostille Stamp is a unique sticker having a unique identification number, through which any member country of The Hague convention can check its authenticity online. Under normal circumstances, once the document has been Apostilled by MEA, it does not need to be attested any more from the concerned foreign embassy.
The Ministry of External Affairs (MEA), Government of India has outsourced its Attestation and certificate Apostille work with effect from March 1, 2012. MEA is the sole authorized body having the authority to issue Apostille and authenticate the documents originated in India for use in foreign country. Superb Enterprises Pvt. Ltd. is one of the authorized outsourced companies for collection and delivery of documents on behalf of MEA to carry out further procedure of Apostille Attestation. As a result of Outsourcing, collection and delivery of documents are not accepted from individual applicants by CPV Division of the Ministry of External Affairs at Patiala House, New Delhi. All applicants are required to submit and collect their documents through the outsourced companies.
Certificate Apostille
The Certificate Apostille is a process of legalization documents. This process sticks an apostille sticker on the required certificate from the Ministry of External Affairs as proof of authenticity. To get the visa the document verification process is acceptable by the members of the Hague convention. It is only verified by the Ministry of External Affairs (MEA) is a Central government's department that deals with external matters. This is the only department that is entitled to legalize or Certificate Apostille in India.
Documents Apostille Stamp
Documents Apostille Stamp is a square-shaped sticker generated from a computer and pasted on reverse of the documents you wanted to apostille. This stamp is provided by the Ministery of External Affairs, Government of India. An apostille is a kind of attestation by which a document is legalized. It is a defined format that is acceptable in all nations that comes under the Hague Convention. So, in Document Apostille, a unique computer-generated stamp has a unique identification number. With this unique identification code, the member of the Hague Convention checks the authenticity of the document online. As soon as the document is apostille it does not require any attestation further from the designated embassy.
Degree Certificate Apostille
The Degree Certificate Apostille is a document legalization process that verifies the authenticity of the same. This document is valid internationally in the members of Hague Convention countries. It is an alternative to legalization by the Hague Convention of October 5, 1961. So, the apostille is the process of documents/certificate legalization which is done on the educational, personal and commercial. Certificate Apostille can only be done on the documents issued in their own country. It is only valid for the countries which are part of the Hague Convention. Apostille is the most recognized process which is valid in more than 106 countries.
Apart from the above service centres we also have Branches in different states to facilitate the collection and delivery services of documents from all over the India. We are present in New Delhi, Mumbai, Chandigarh, Jalandhar, Bangalore, Pune, Maharashtra, Hyderabad, Kochi, Trivandrum and Dubai- UAE.
Procedure of Apostille: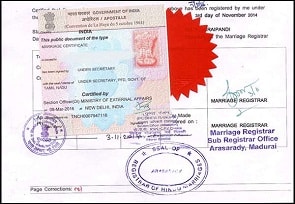 India became member of the Hague Convention in 2005 which abolished the requirement of legalization of public documents. In India, Ministry of External Affairs (MEA) undertakes both, Apostille attestation and general attestation of documents. The procedure is as follows-
Step 1: Authentication of documents
All original documents/certificates requiring MEA to issue Apostille must be first authenticated by the designated authorities of the State/Union Territory from where the document is issued. Indian Apostille can only be issued by MEA when the respective relevant state authority has attested a particular document. A list of the Regional Authentication Centers and the designated authorities can be seen on the MEA website http://www.mea.gov.in/
Step 2:Legalization of documents
The Ministry of External Affairs (MEA) attests /legalizes the documents only after these have been authenticated with the signature and seal/stamp of the designated authorities of the State Government/Union Territory/Chambers of Commerce from where the documents have been issued. The MEA legalizes the certificate/documents on the basis of the signature of the designated authorities; hence it does not take responsibility of the contents of the documents.
For Educational Documents:
Education Department of the concerned State Government/Union Territory (HRD/GAD)/NORKA + Apostille from MEA
For Non-Educational Documents:
State Home Department/GAD/SDM of the concerned State Government/Union Territory + Apostille from MEA
For Commercial Documents:
Respective Chamber of Commerce + Apostille from MEA
Types of Documents and Charges:
While no fee is levied by the Ministry of External Affairs for General Attestation, there is a fee of Rs.50/- (Rupees Fifty only) per document Apostille. The fee is to be paid by means of Indian Postal Orders payable in favor of Pay & Accounts Officer, Ministry of External Affairs, New Delhi. Service charge payable to SEPL is the same for both general attestation and apostille attestation.
Only Original documents duly authenticated by the designated authorities of the concerned State Governments are Apostilled by the Ministry of External Affairs. Apostille sticker is issued on the reverse side of the original document. The applicants need to submit the following documents:
(a) Original document to be Apostilled;
(b) One clear photocopy of the document;
(c) One clear photocopy of the passport;
(d) Postal Order of Rs.50/- payable to Pay & Accounts Officer, MEA, New Delhi.
(e) Our service charges as given below:

Service Fee
Type of Documents
Charges for each documents
Apostille ( Govt. Fee)
Rs.50/- for each Apostille Sticker
Service Fee (SEPL)
Rs.90/- per document (same fee for all types of documents educational, personal or commercial)
Scanning Fee(SEPL)
Rs.3/- per page
Note:
Documents can be deposited in our "Collection & Delivery" counters between 0900 hrs and 1800 hrs from Monday to Saturday excluding holidays.
However, in case the document is found fake or the authentication forged, the same will be seized by the Ministry of External Affairs. The Ministry may also initiate appropriate legal action against the applicant. The service charge paid to us or Apostille fee paid to the Ministry of External Affairs cannot be returned in any circumstances.
It is relevant to mention that the MEA does not issue Apostille on the photocopies of documents. Applicants are advised not to rely on unauthorized persons for Apostille attestation services.
Documents can be deposited and collected back either in person or through an authorized representative. Documents will be returned only on production of receipt for payment of service charge.
Educational Documents

Degree Certificate Apostille

PG Degree Certificate

BE Certificate

Diploma Certificate

Nursing Certificate

SSC Certificate

HSC Certificate

Inter Certificate

MBBS Certificate

Dentists Certificate

Engineering Certificate

Transcript Certificate

Nursing Certificate

Pharmacy Certificate

MS Certificate

MD Certificate

Mark Sheets
Non-Educational Documents

Marriage Certificate Apostille

Birth Certificate Apostille

Leaving Certificate

Police Clearance

Registration Certificate

Power of Attorney

Bona-fide Certificate

Medical Certificate
Commercial Documents

Export Invoice

Packaging list

Power of Attorney

Certificate of Origin

Certificate of incorporation

Chemical analysis report

Physical analysis report
Countries That Accept Apostille:
Following are the countries that have signed The Hague Convention 1961 and are members of it. As they are signatory to the Convention, documents to be used in these countries do not require general attestation and MEA can issue Apostille to the documents which are acceptable by member countries:-
Albania
Andora
Antigua
Argentina
Armenia
Australia
Austria
Azerbaijan
Bahamas
Bahrain
Barbados
Belarus
Belgium
Belize
Bosnia and Herzegovina
Botswana
Brunei Darussalam
Cape Verde
Colombia
Cook Island
Costa Rica
Croatia
Cyprus
Czech Republic
Denmark
Dominica
Dominican Republic
Ecuador
El Salvador
Estonia
Fiji
Finland
France
Georgia
Germany
Greece
Grenada
Hungary
Honduras
Hong Kong
Iceland
India
Ireland
Israel
Italy
Japan
Kazakhstan
Kyrgyzstan
Latvia
Lesotho
Liberia
Liechtenstein
Lithuania
Luxemburhg
Macau
Macedonia
Malawi
Malta
Marshal Island
Mauritius
Mexico
Moldova (Republic)
Monaco
Montenegro
Namibia
Netherland
New Zealand
Niue
Norway
Oman
Poland
Peru
Panama
Portugal
Romania
Russian
Saint Kitts
Saint Lucia
Slaint Vincent
Samoa
San Marino
Sao Tome
Serbia
Seychelles
Slovakia
South Africa
South Korea
Spain
Sluriname
Tonga
Trinidad & Tobago
Turkey
Ukraine
UK
USA
Uruguay
Uzbekistan
Vanuatu
Venezuela
FAQ
What is the need for an Apostille marriage certificate?
A Marriage certificate is an inevitable document requiring authentication overseas if you are sponsoring your spouse's visa. No expat can apply for a spouse or fiance visa without a marriage certificate. The concerned government official needs evidence to prove the authenticity of your relationship and an Apostille marriage certificate confirms the legitimacy of your marriage overseas. Do make sure to Apostille your document from all concerned authorities to avoid any hassles or rejections later.
Who Apostille certificate in India?
The Ministry of External Affairs (MEA) is the sole proprietary organization in India authenticating Indian-originated certificates with Apostille stamp. However, one can't directly apply for the Apostille attestation. The Ministry has outsourced a few agencies who can submit documents on the applicant's behalf. Applicants can't visit the MEA branch directly for Apostille.
Where to Apostille birth certificate in India?
A birth certificate and all other Indian personal documents are Apostille by the Ministry of External Affairs, Government of India. The MEA has opened its Branch Secretariats/RPOs in numerous cities of India for easing this whole procedure for Indian citizens, including Delhi, Kolkata, Hyderabad, Chennai, Lucknow, Raipur, Bhopal, Kochi, Mumbai, Trivandrum, Panaji, Chennai, Ahmedabad, and Bengaluru. Also, search for MEA outsourced agencies in your region for submission and collection of the documents for Apostille.
How much time required for Apostille documents in India?
The Ministry of External Affairs Apostilles a document within 1 business day. The time taken for the completion of document Apostille depends upon the type of document and state government departments. Since a document is authenticated by several government departments, it can take from 5 to 10 or more business days to get Apostille. Educational documents usually take more time as compared to other documents.
How much does it cost to Apostille certificate in India?
The Ministry of External Affairs (MEA) charges Rs. 50 per document for Apostille. Previously the payment was made through postal orders, but now it has been discontinued, and now the fees can only be paid online. The Ministry has outsourced a few agencies who can submit and collect documents on the applicant's behalf. The fee chargeable by the outsourced agencies per document as per the MEA for Apostille is Rs. 90 (Service Fee) and Rs. 3 per page (Scanning Fee).
Which document is required for Apostille authentication?
The Ministry only attests to the original copy of a document, and all photocopies will be rejected. Any fraudulent document will be confiscated by the MEA, and strict actions will be taken against the particular individual. Submit the original copy of the document along with a copy of Passport to any of the Branch Secretariats or RPOs of the MEA for Apostille.