KUWAIT ATTESTATION SERVICES
Kuwait embassy attestation is a service requested by an individual willing to shift to Kuwait for study, work, employment, or any other purpose.
Attestation is a confirmation that the legal documents of a foreign citizen in Kuwait are original and authentic.
The Ministry of External Affairs (MEA), the Government of India, has officially authorised Superb Enterprises Private Limited (SEPL) to provide fast and genuine attestation services in India.
Superb Enterprises helps applicants and the concerned departments to get and provide the best attestation services in India for Kuwait.
The team of Superb Enterprises is highly professional and dedicated to providing customer-oriented services.
We collect documents for the attestation from the applicant and submit them to the concerned departments one after the other for fast verification and genuine attestation.
We have been helping customers to get Kuwait attestation since our establishment in 2008.
Contact Superb Enterprises Private Limited for fast attestation services for Kuwait.
Need for Kuwait Embassy Attestation
People generally shift from their native country to Kuwait for study, work, business, employment, etc.
Educational, personal and commercial are three categories of documents used by an individual to apply for a study visa, work visa, business visa, residence visa, etc.
Embassy attestation from the destination country of the applicant is necessary to use his legal documents abroad.
Here are the reasons an individual applies for Kuwait embassy attestation.
Educational Certificates Attestation Need
Work visa
Work permit
Study visa
Personal Certificates Attestation Need
Resident visa
Family visa
Spouse visa
Marriage
Child admission
Commercial Documents Attestation Need
Export and import
Business
The removal of the LLC partnership
Open a bank account
Company registration
Avail the best attestation services for educational, personal, and commercial documents for Kuwait.
Documents Required for Kuwait Embassy Attestation
The team of Superb Enterprises requests the applicant to provide them with the following documents to avail of our administrative services for educational, personal, and commercial documents.
Original document/certificate
Passport copy of the applicant
Authorization letter (If Required)
The applicant can visit our office to avail of the best attestation services. Besides, the applicant can courier his legal documents to our office for professional attestation services.
Kuwait Embassy Attestation Procedure
The Kuwait embassy legalises a specific document after the MEA has authenticated that document. There are three types of Indian documents an individual uses abroad for education, employment, business, and residence - Educational, Personal and Commercial.
Before the final certificate attestation, the document has to go through some compulsory attestation from various authorised authorities. The detailed attestation procedure is as follows-
Procedure for Educational Documents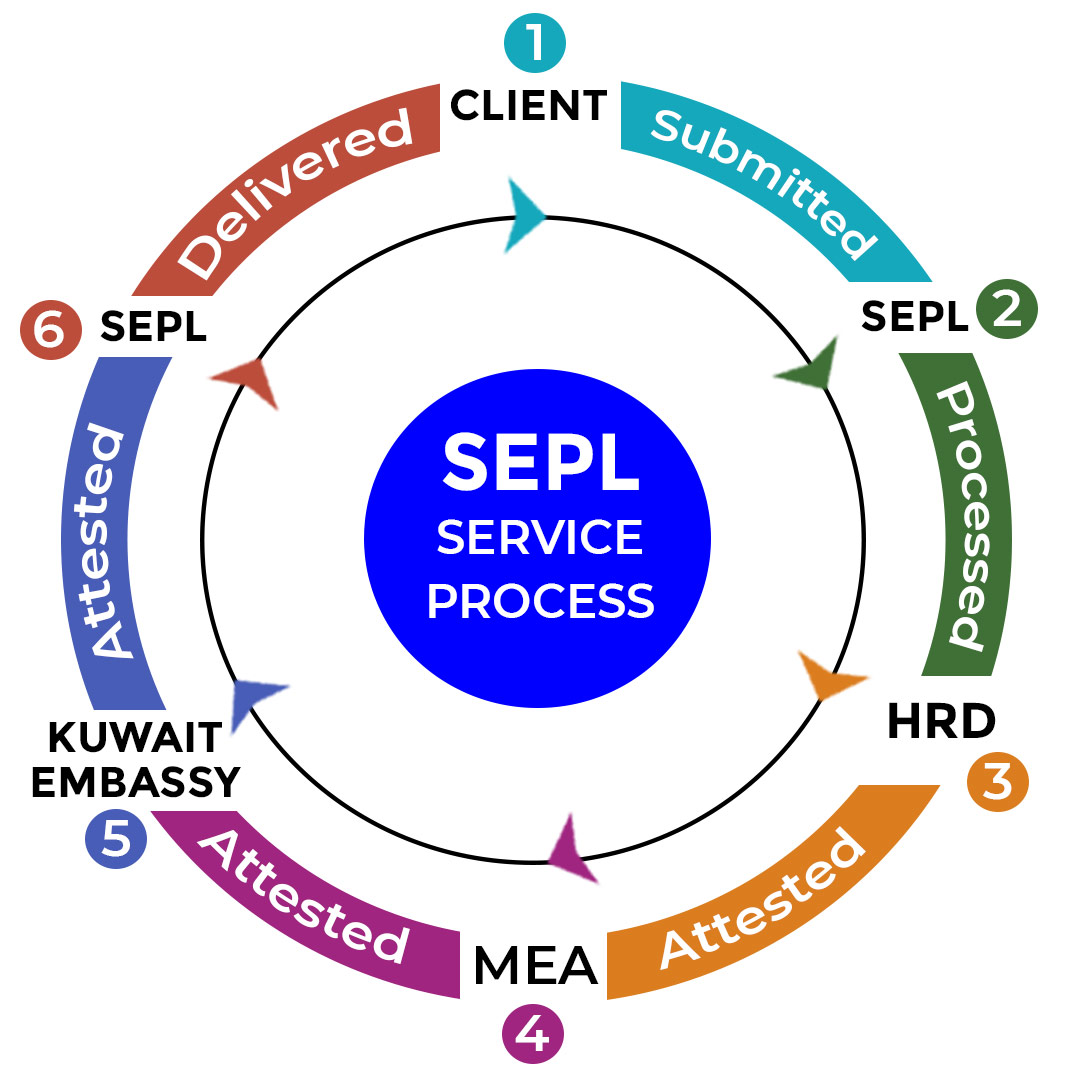 Step 1- HRD Attestation
The State Human Resource Development (HRD) department verifies all educational documents and confirms they are original and authentic.
Step 2 - MEA Attestation
After the State HRD attestation, the MEA places MEA attestation on the documents and confirms their authenticity.
Step 3 - Kuwait Embassy Attestation
The last attestation on educational documents is the task accomplished by the Kuwait embassy in India.
Procedure for Personal Documents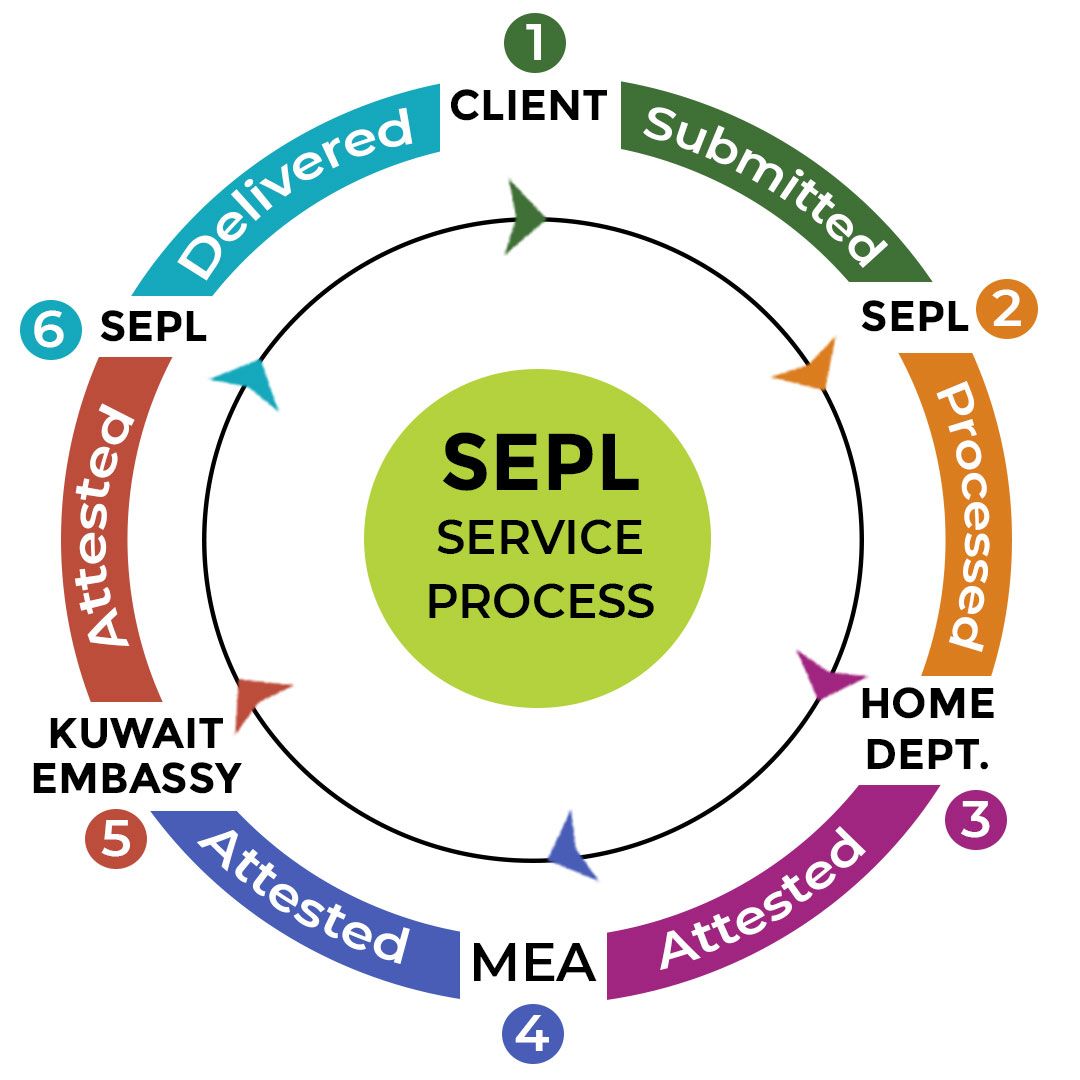 Step 1 - Home Department Attestation
The State Home Department verifies personal documents and confirms that they are authentic with home attestation.
Step 2 - MEA Attestation
After the State Home Department attestation, the MEA confirms the documents are authentic with MEA attestation.
Step 3 - Kuwait Embassy Attestation
The last attestation on personal documents is the service provided by the Kuwait embassy.
Procedure for Commercial Documents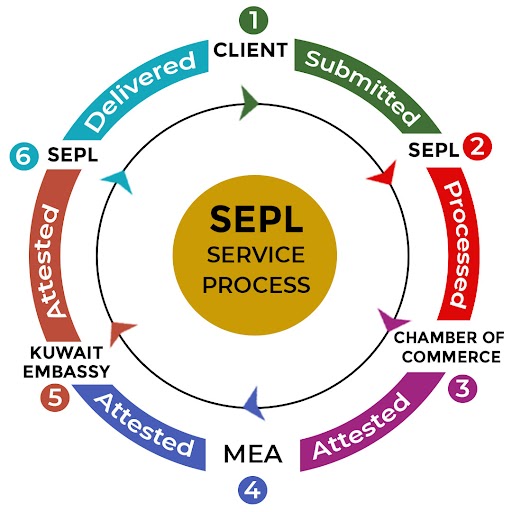 Step 1 - Chamber of Commerce Attestation
The Chamber of Commerce is the department that verifies and confirms the authenticity of all commercial documents with attestation.
Step 2 - MEA Attestation
After the Chamber of Commerce attestation, the MEA places MEA attestation on commercial documents.
Step 3 - Kuwait Embassy Attestation
The last attestation on commercial documents is the service provided by the Kuwait embassy.
Connect with the team of Superb Enterprises for superb attestation services.
Popular Certificates Attested for Kuwait
The following are the most common documents people attest to studying, working, or doing business in Kuwait.
Educational Documents
Matriculation
Intermediate
Graduation Degree
Post Graduation Degree
Doctorate Degree
Certificates
Diploma, and all other professional degrees/certificates
Transfer Certificates
Bonafide Certificates
Transcript Certificates
Personal Documents
Work Experience Certificates
Birth Certificates
Affidavits
Marriage Certificates
Registration Certificates of professional bodies
Power of Attorney
Death Certificates
Migration Certificates
Divorce Certificates
Internship certificates
Police Clearance Certificates
Medical Certificates
Commercial Documents
A business agreement
Dissolution of Business
Business Registration Certificate
Business Patent
Certificate of Origin
General Power of Attorney
Special Power of Attorney
No Objection Certificate
Income Tax Certificate
Sale Tax Certificate
Memorandum of Articles
Memorandum of Association
Government Approval Letters and all other certificates/documents relating to trade/business, Invoices
What Help SEPL Provide
We help the applicant by submitting his document to the concerned departments for attestation. On the same side, we assist the departments that provide attestation services with the applications of people for embassy attestation.
Here are the facilities and services we provide our customers.
Fast & Secure Services
We work to meet the urgent requirements of our customers. We follow a systematic procedure for document collection, submission, and delivery before and after embassy attestation.
Document Translation Service
Approx. all Gulf countries provide embassy attestation on the translated copy of the original document of the applicant. Along with superb attestation services, we are a professional document translation service provider who creates a translation copy of your original certificate into the native language of your destination country.
Document Tracking Service
Our customers can track the status of their documents through the Superb Enterprises tracking service.
Service Availability All Over India
We have offices at various locations in India to provide our customers fast and secure services for Kuwait embassy attestation.
Customer Convenience
We believe in providing customer-oriented services for our customers' satisfaction that inspire them to come back to us for embassy attestation for all documents.
Contact Details
Need Help? Talk to an expert - +91-8527270999 / +91-8860025047
You can email us your queries or requirement here meaattestation@seplgroup.com
You or your authorised representative can personally deliver the certificates to our office; or
You may also courier your documents to our office.