A death certificate attestation is a service provided to the applicant who needs this document for a purpose in a foreign country. The application of an applicant for a death certificate attestation in India is processed by the authorised agency of the Ministry of External Affairs, Government of India, Superb Enterprise Private Limited (SEPL).
The dedicated team of SEPL attestation service providers completes the administration task related to death certificate attestation. We support applicants by completing the attestation procedure affordably and securely.
We manage the administrative tasks, from the collection of a death certificate for attestation from the applicant to submitting the document to the government authorities and embassies for attestations, and vice-versa.
We complete a death certificate attestation procedure in four simple steps - Collect documents from you, Check documents, Submit them to the departments for attestations, and deliver attested documents to you.
Death Certificate Attestation Need
To prove a person is dead.
For insurance purposes.
To handle the tasks related to the deceased person's belongings.
With attestation, a death certificate confirms that its authenticity has been checked by the origin country of the applicant and the destination country embassy.
Read More: What is Attestation & Why is it Required?
Death Certificate Attestation Procedure
A death certificate is a non-educational document attested by the following departments.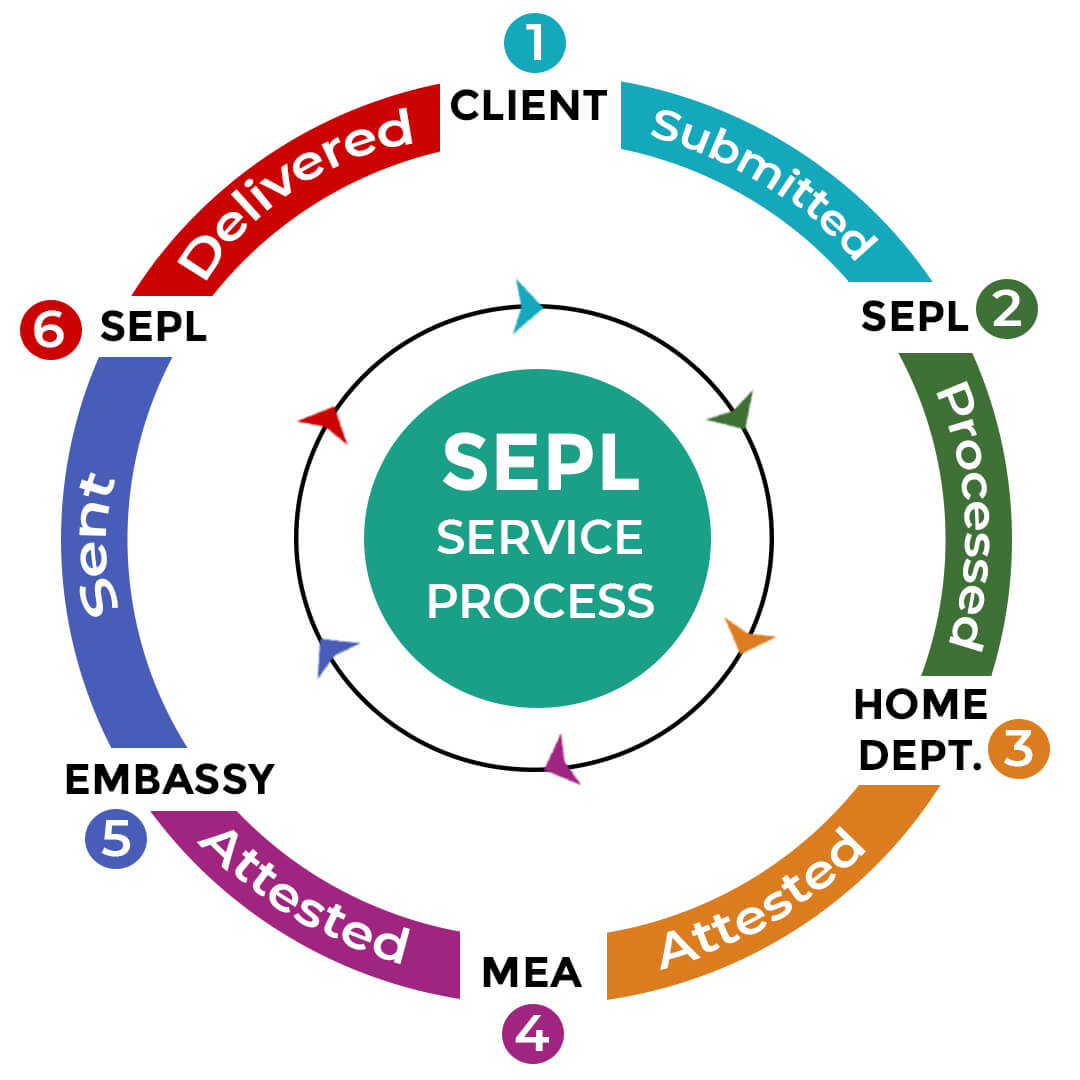 Step 1 - State HRD Attestation
The State Home Department confirms a death certificate is genuine with state-level attestation.
Step 2 - MEA Attestation
After the state-level attestation, the Ministry of External Affairs (MEA) confirms the authenticity of a death certificate at the national level with MEA attestation.
Step 3 - Embassy Attestation
The final attestation on a death certificate is the task accomplished by the destination country of the applicant.
Documents Required for a Death Certificate Attestation
Courier or submit the following documents to one of the branches of SEPL
Original Death Certificate
A passport copy of the person who has requested a attestation
Authorization letter (If Applicable)
What Help SEPL Provide
We have been handling the task of completing the document attestation process for many years. Lakhs of people every year connect with us and avail of our services for the following reasons.
Swift and Secure Processing Service
Document Translation
Document Tracking Facility
Service Availability All Over India
Visa Consultant
Visa Stamping
Visa Processing
Travel Arrangements
Contact Details
You can email your request here - meaattestation@seplgroup.com.
You can either dial +91-8527270999 or +91-8860025047 to talk to an expert consultant of SEPL
Frequently Asked Questions
How Much Does a Death Certificate Attestation Cost?
The attestation costs depend on the document type, country to country, and state to state.
How Long Does it Take to Get a Death Certificate Attestation?
The processing time of a death certificate attestation varies from state to state and country to country.
Who can Attest Death Certificates in India?
The Ministry of External Affairs outsourced the work of document attestation in India. We are officially approved by the MEA to accept applications from applicants to process their document attestation procedures swiftly and efficiently.
How do I Get a Death Certificate Attested for UAE?
You can courier your document or visit our office, and our expert team will process your attestation procedure. We deliver your attested death certificate according to the mode you prefer.