A degree certificate apostille is the service availed of by those who wish to use their certificate in a foreign country.
Apostille is a type of attestation sticker stamp provided by the Ministry of External Affairs, MEA, the Government of India.
Apostille Attestation was established by the Hague Apostille Convention 1961 member countries.
The MEA in India handles foreign affairs and places an Apostille stamp on a degree certificate issued in India to prove it is valid and genuine to present in the Hague Apostille Convention member country.
Read More: Degree Certificate Attestation
The MEA has outsourced the tasks of accepting documents to provide apostille service to the applicant.
Superb Enterprise Private Limited (SEPL) is the authorised agency of the MEA that collects documents from applicants and completes the apostille procedure.
Degree Certificate Apostille Need
Apostille is a service taken by an individual who wishes to use his degree certificate to fulfil any of the following purposes in a foreign country.
Higher education
Employment
Migrate overseas
Enrol in the Ministry of Health (MOH) or department of health (DOH) examination
Documents Required for Degree Certificate Apostille
The dedicated team of SEPL requires the following documents from an applicant to complete his degree certificate apostille procedure swiftly and securely.
Original Degree Certificate
All semesters' Mark Sheet photocopy
Passport copy of the applicant
Authentication letter (If Applicable)
Degree Certificate Apostille Procedure
A degree certificate is an educational document whose apostille procedure is as follows.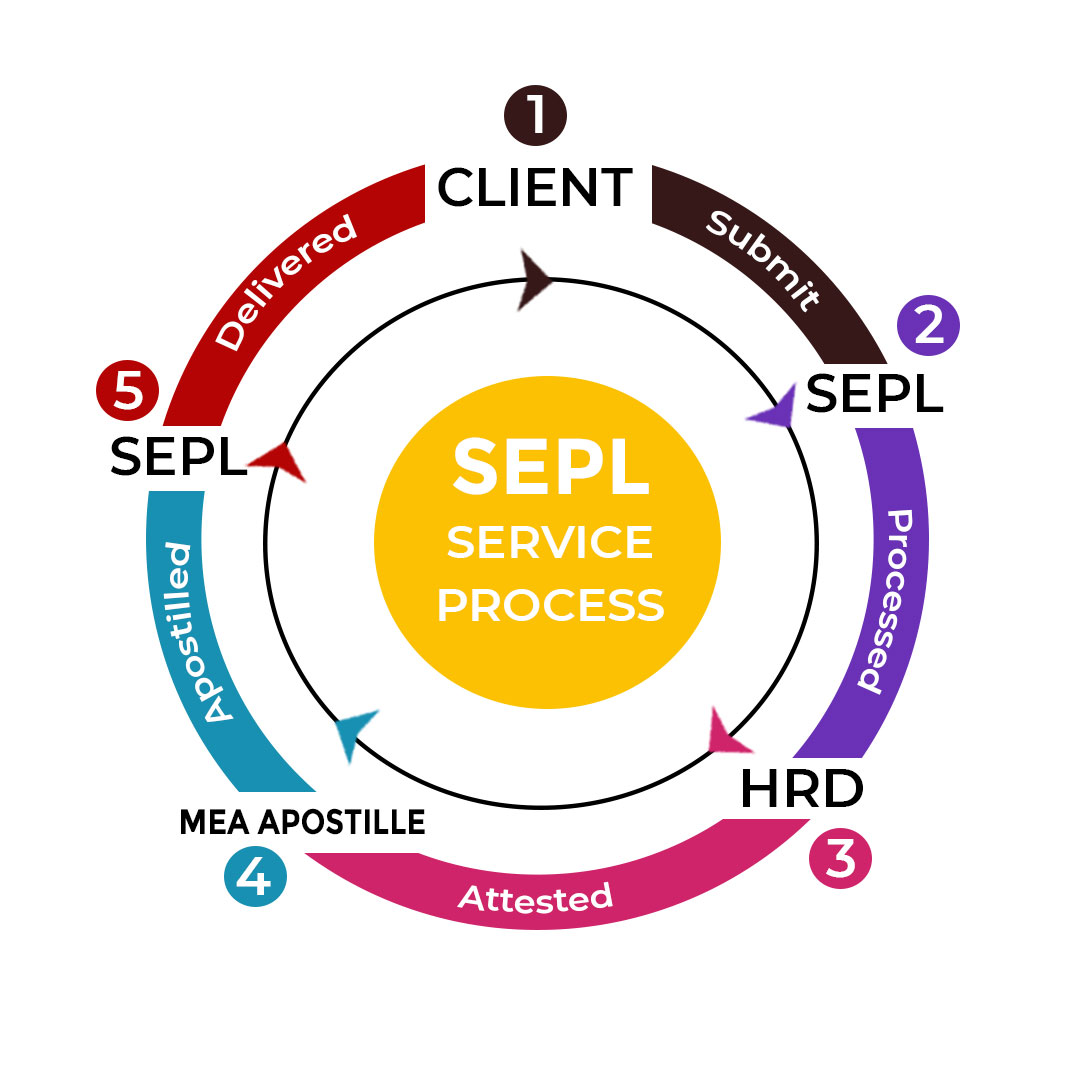 Step 1 - State HRD Attestation
The State Human Resource Department, HRD, verifies the authenticity of a degree certificate and confirms it by placing an HRD attestation stamp on the same document.
Step 2 - MEA Apostille
The MEA confirms that a degree certificate is original and authentic for use in a Hague Apostille Convention member country with its MEA apostille.
What Help SEPL Provide
The professional team of SEPL provides the following facilities and services to meet the imperative needs of the applicant.
Fast & Reliable Service
Numerous customers found us fast and trustworthy for our services.
Document Translation Service
We provide professional document translation services for the Gulf and European countries that accept documents for apostille with their translated copies.
Tracking Service
We provide our customers with a reference number to get updates on when and where their degree is for verification and apostille.
Service Availability All Over India
We are available in metro and non-metropolitan cities in India to provide authentic and swift document apostille services.
Contact Details
You may contact us for swift and secure document apostille services;
Dial +91-8527270999 or +91-8860025047 to talk to an expert to avail our services.
Email your request to apply for document apostille services to meaattestation@seplgroup.com.
We welcome you to our office to submit your degree certificate for an MEA apostille.
You can courier your document to our office for apostille.
Frequently Asked Questions
What is a Degree Certificate Apostille?
A degree is a certificate you get when you complete a program at a university. Apostille is a computer-generated square-shaped stamp placed on the backside of a degree certificate by MEA.
The apostille certificate contains 11 standard fields on the backside of the document.
Country Name
Type of the document/certificate
Name of the officer recognized by the MEA
With the Stamp of Acting in the capacity of
Certified by
Date of Apostille
Location of Apostille
Reference No
Name of the Document Holder
The authority gave the Apostille
Signature of the authority issuing the Apostille
What is the Cost of a Degree Certificate Apostille?
The cost of getting an apostille service for a degree certificate depends on the concerned departments involved in the apostille procedure and the destination country of the applicant.
How Many Days Will It Take for a Degree Certificate Apostille?
The processing time of it depends on the state HRD department and the MEA.
How To Get A Degree Certificate Apostille?
The MEA accepts documents for apostille through its outsourced agencies. You can share your documents with SEPL to complete the procedure of apostille swiftly and with less hassle.
Do Indians Have to Get Their Degree Certificate Apostille to Work in the UK?
Yes, an apostille of a degree certificate is compulsory if its holder has the requirement to offer it to an institution or company in the UK to get a job or education.
What is the Process of a Degree Certificate Apostille for Italy?
A degree certificate apostille procedure for Italy includes the State Home Department, and the Ministry of External Affairs of India.
What is the Disadvantage of not Taking an Apostille Service for a Degree Certificate?
When you do not take an apostille service for your degree certificate, you cannot use it in a foreign country.
Apostille of a degree certificate is vital to prove that the document is authentic and issued by an existing, reputed, and trustworthy organisation.