A personal certificate attestation is mandatory if an individual wants to use his legal certificates in a foreign country.
Attestation is a way you prove to the government of the foreign country where you are going that your documents are legal and authentic.
The Ministry of External Affairs, MEA, the Govt. Of . India, place MEA attestation on all documents issued in India.
Superb Enterprise. Pvt. Ltd (SEPL) is MEA officially approved agency to provide attestation support services in India.
The dedicated professional team of SEPL manages administrative functions and assists applicants, Indian authorities, and embassies in personal certificate attestation tasks.
Types of Personal Certificates
Non-educational is a word used for personal documents. There are different types of personal certificates, and popular ones are;
Birth Certificate
Marriage Certificate
Death Certificate
Medical Certificate
Police Clearance Certificate
Single-Status Certificate
Visit the SEPL office to submit your personal certificate to avail of legal document attestation services.
Read More: Birth Certificate Attestation
Need for Personal Certificates Attestation
The following are the popular reasons you need attestation services to prove that your personal certificate is genuine for use in a foreign country.
For long-term immigration
To stay in a foreign country with residential status
For employment
For educational purposes
To obtain a family visa or spouse visa
To prove your marital status abroad
To add your partner's name to your passport
For marriage
For remarriage
Documents Required for a Personal Certificate Attestation
Submit the following documents to the SEPL to take attestation services for a personal certificate.
Original certificate
Passport copy
Authorization letter (If applicable)
We provide administrative services for all personal certificate attestation from the State Home Department, MEA, and embassies.
Personal Certificates Attestation Procedure
From a marriage certificate to a police clearance certificate, all personal documents issued by the Indian government come under the management of the State Home Department and the MEA for verification and attestation.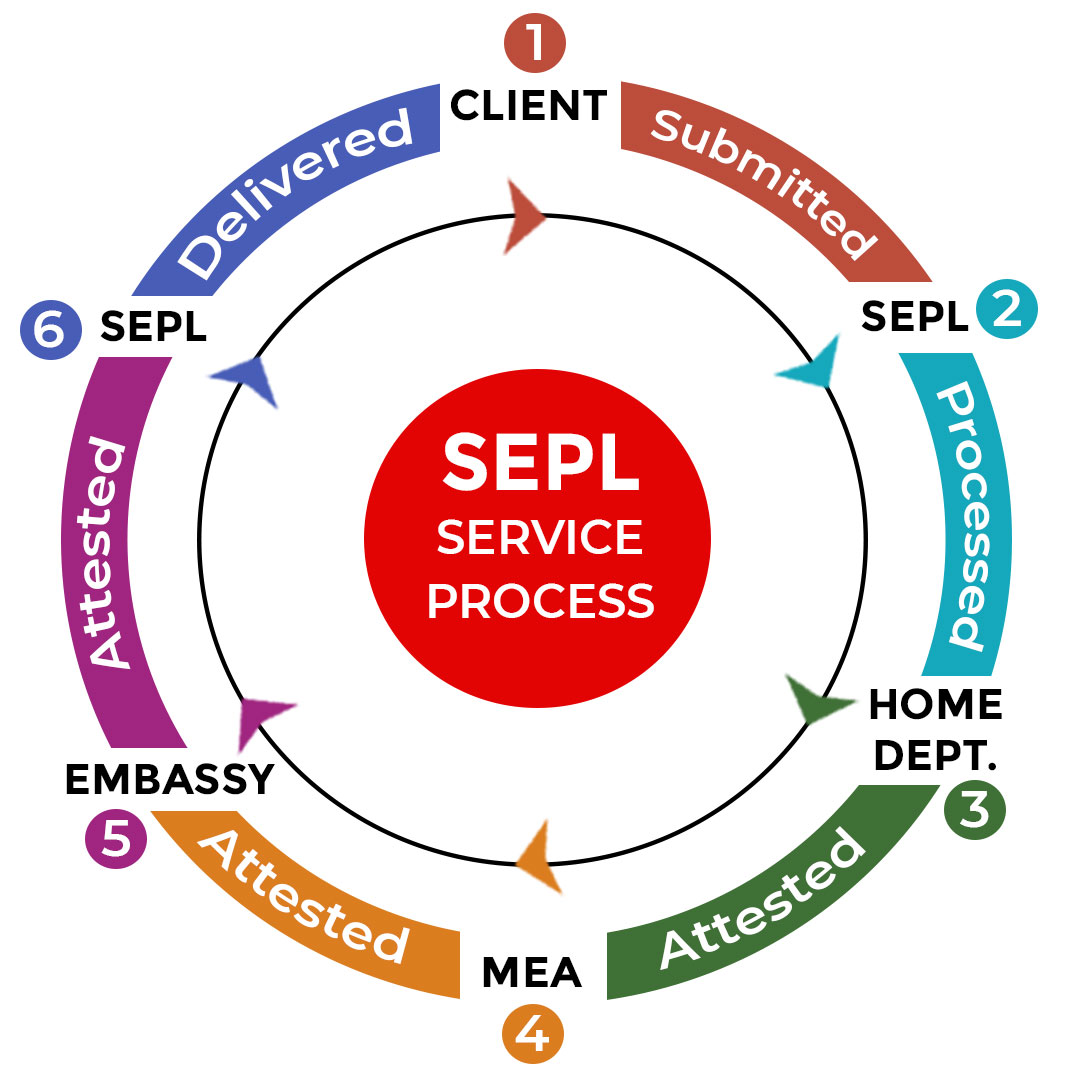 Read More: Marriage Certificate Attestation
Here is the complete attestation procedure for all types of personal certificates.
Step 1 - State Home Department The State Home Department checks and confirms the document is authentic with attestation.
Step 2 - MEA Attestation After the State Home Department attestation, the Ministry of External Affairs (MEA) reconfirms that the personal certificate of an individual is legal with an MEA attestation.
Step 3 - Embassy Attestation The respective embassy of the destination country of the applicant provides the last attestation stamp on the personal certificate. The team of SEPL provides swift and secure attestation services for all types of personal documents.
What Help SEPL Provide
The dedicated and professional team of SEPL is committed to providing its customers with the following benefits and facilities with excellent and transparent attestation services for personal certificates.
Fast and Trustworthy Service
We follow a fast systematic procedure to collect documents from the applicant and submit them to the concerned authorities for attestation.
Language Translation Service
We provide document translation services because many countries accept documents with their translated copies. You can consult us for your document translation copy in Arabic, French, Spanish, German, Urdu, Japanese, Russian, Korean, Chinese, Italian, etc.
Record Tracking Service
We provide our customer reference number to track their document attestation procedure progress.
Availability of Services All Over India
We have offices in all important cities in India to provide you with swift and secure attestation services for personal documents.
Client Convenience
We work to meet the attestation requirements of our customers.
Contact Details
You may contact us.
Talk to an expert here at +91-8527270999 or +91-8860025047.
Email your requirement or query related to personal certificate attestation services at meaattestation@seplgroup.com.
Visit our office for document attestation services.
Courier your personal document for attestation.
Frequently Asked Questions
What is an Attestation of Personal Documents?
The attestation confirms to the government of your foreign country that your personal certificate is legal and genuine.
Is there a different Attestation Procedure for Each Personal Document?
There is a general procedure to verify and place an attestation stamp on all personal documents except when the applicant needs attestation for any Gulf country.
The rule for any gulf country embassy attestation might include MOFA attestation.
What is the Cost of a Personal Certificate Attestation in India?
The attestation charges depend on the document type and the departments involved in the personal certificate attestation procedure.