A single status certificate apostille defines the document as authentic for use in a Hague Apostille Convention 1961 member country.
Apostille is an attestation sticker stamp placed on a single status certificate of an individual who needs the certificate to prove he is a bachelor or has no spouse in his native country.
The Ministry of External Affairs, MEA, Government of India, places an apostille sticker stamp on all documents issued in India.
The MEA has outsourced the apostille administrative work.
The MEA has officially approved Superb Enterprise Private Limited (SEPL) to provide the best apostille services in India.
The team of SEPL collects a single status certificate from the applicant and submits it to the concerned department for apostille.
What is a Single Status Certificate?
A single status certificate confirms that its holder has no spouse in his home country or any other country.
This simple certificate confirms to the higher authorities of your destination country that you are eligible to marry someone.
A single certificate has many names, such as a certificate of no marriage record (CENOMAR), a bachelorhood certificate, a certificate of no impediment, and a celibacy certificate.
The single status certificate is issued according to the judiciary laws of the concerned country of the applicant.
Single Status Certificate Apostille Need
A single Status Certificate proves that you have no spouse. This certificate is mandatory to marry a citizen of a foreign country.
Any Hague Apostille Convention member country will not accept your single status certificate without your home country's MEA apostille.
The service of a single status certificate apostille confirms that the certificate is authentic. An apostille sticker stamp is also helpful for preventing any forgery.
It assures that a particular document of an applicant is original and issued by an authorised organisation or department.
Single Status Certificate Apostille Procedure
The dedicated and expert team of SEPL completes the applicant's document apostille procedure on his behalf.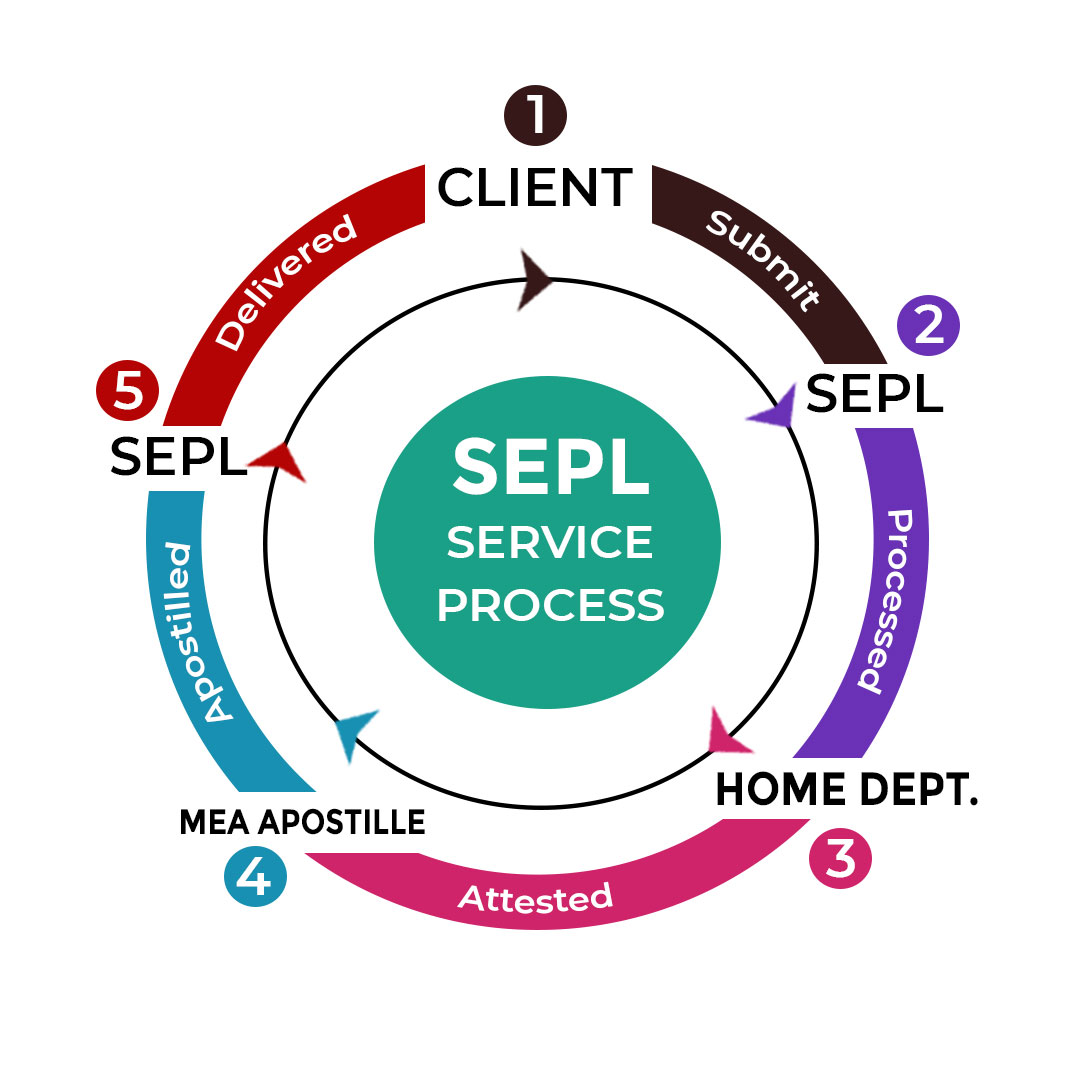 Step 1 - Home Department Attestation Prior to the MEA apostille, the State Home Department verifies and places an attestation stamp on a single status certificate to demonstrate it is authentic.
Step 2 - MEA Apostille After the State Home Department attestation on a single status certificate, the MEA places an MEA apostille on the certificate and reconfirms its genuineness.
Note-The process of certificate legalisation relies on the destination country of the applicant.
Documents Required for a Single Status Certificate Apostille
Kindly submit the following documents to the team of SEPL so they can start the procedure of a single certificate apostille swiftly and securely.
Original Single Status Certificate
Passport Copy
Authorization Letter (If Applicable)
What Help SEPL Provide
SEPL, since 2013, has been known for its best and fastest apostille services. Here are some of the facilities and services provided by SEPL to complete a document apostille procedure without hassle.
We follow a systematic procedure for document collection from the applicant and submission to the concerned authorities to run the apostille procedure.
We provide professional document translation services for countries that accept documents with their translation copies.
We give our customers a reference number so they can track the procedure of their document apostille.
We believe in customer satisfaction and convenience to keep them coming back.
Contact Details
You can email your request here - meaattestation@seplgroup.com.
You can dial +91-8527270999 or +91-8860025047 and talk to an expert consultant of SEPL to take the best apostille services.
Frequently Asked Questions
How Long Does it Take for a Single Status Certificate Apostille?
The time to complete a document apostille procedure depends on the departments involved.
How Much Does a Single Status Certificate Apostille Cost?
The cost of a single status apostille depends on the departments that place an attestation and apostille stamps on the document to confirm it is authentic.
How to Get a Single Status Certificate Apostille?
The MEA accepts documents for apostille through its outsourcing agency SEPL. You can visit our office for apostille services. You can also talk to our expert and courier your document to our office for apostille.